NewsLens June 2022 – Scrutinizing the big Flexport announcement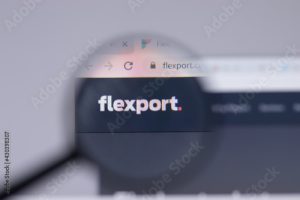 June's early news has largely been hyper-focused on reading the tea leaves for what's happening the second half of this year and teasing out the implications of some retailers being over-inventoried and changing consumer behavior amid inflation. Exactly how it will play out is uncertain – but we don't believe it changes the projected big picture at this point.
This month, in light of the C-suite change – we're going to scrutinize the big Flexport announcement.
Before going there, you'll also note that we've included a series of links regarding more structural issues – broken up into categories documented before. While there's good to the real-time feed, I find there's perspective in looking at things with a little distance and different orientation.
Feedback on format is always appreciated.
**
Flexport announced on June 8th that Amazon Consumer CEO Dave Clark will become the CEO of the digital forwarder in September of this year and the current CEO, Ryan Peterson, will transition into executive chairman role early 2023.
My argument boils down as follows:
There's a near-existential imperative for Flexport to change its strategic model in the mid-term.
Flexport's strategic options are actually limited. Their anticipated path puts them more squarely into an execution-driven supply chain entity with a global footprint (sounding an awful lot like a global forwarder).
Time is largely working against them and seems prudent to inject growth through M&A.
While this likely reduces valuation multiples, a well-executed Flexport 2.0 becomes a sustainable viable entity competing and hopefully maintains its positive force for change in global supply chain … which is a good thing. This also puts enormous pressure on Flexport's ability to execute at scale, which, potentially, makes their new CEO the right person for the job.
The Imperative
Let's start with describing Flexport's current strategic model: providing freight forwarding and related services to BCOs, supported by a limited asset base, and differentiated through technology.
Global forwarders have clearly taken note and are using recent bumper profits to ramp up IT investments and accelerate their technical capabilities on all sides of the business – closing the gap with Flexport.
At the same time, indications suggest Flexport's actual competitive market impact is more limited in scope than one might expect from media coverage.
These converging factors clearly question Flexport's long-term viability, meaning that some kind of substantive adjustment is needed.
The Options
Let's look at their strategic options, one at a time.
Option 1. Double-down on IT
What this looks like: use Flexport's IT competencies to add functionality to the current platform and still target BCOs or, alternately, enable platform to be used by forwarders and compete with, say, CargoWise.
Let's start by observing there are incremental opportunities to extend their value proposition with BCOs, however, assuming the freight forwarder community would keep up, that tack wouldn't address structural erosion of the current strategic model.
A large, step-function pivot would place them in – or closer to – a crowded ERP space. An acquisition or combination with a provider such as Aptean could be interesting (connecting ERP-level cost tracking to supply chain events) – but it feels more interesting than sizeable. Plus shifting into the space could also potentially conflict with Shopify's interests (which is relevant given Shopify's participation in Flexport's latest fundraising round).
Setting themselves up as an FMS competitor and selling to forwarders also looks sizeable but (a) the likelihood of forwarder uptake would be slim unless the platform was spun out into a separate company, thereby diluting the value to the Flexport-entity and (b) freight management systems implementations – particularly at scale – are complex and sticky so, while the market is sizeable, moving a top forwarder from CargoWise or another incumbent system is not a simple ask.
Option 2. Extend to the end consumer
What this looks like: Flexport's relationship with Shopify extends to consumers more generally, something of an international shipping option.
I see interesting opportunities in the supply chain associated with e-commerce fulfillment from overseas and using Section 321 for de minimis shipments for items with a higher demand uncertainty. However, I'm less certain this is a sizeable standalone opportunity versus an opportunistic use of an international network.
Plus, I suspect the Shopify relationship will limit Flexport's consumer-touching behaviors.
Option 3. Double-down on the international footprint
What this looks like: Flexport bulks up and expands its physical operations footprint internationally.
A combination of Flexport's technology with an extensive international footprint would directly challenge the major legacy freight forwarders, with Flexport increasingly looking like a legacy freight forwarder (albeit potentially with better than average tech and efficiencies given proprietary technical environment).
This business, however, can scale and does not have the strategic limitations of other options.
The key question whether to build out organically vs inorganically (M&A) given time constraints: the trends highlighted earlier will only narrow Flexport's valuation premium compared to the major freight forwarders over time (relevant in M&A) and investors may not be patient nor confident in their returns.
Option 4. Extend to the landside supply chain operations.
What this looks like: Flexport bulks up on the 'domestic' distribution (e.g., warehouse / distribution locations).
The simple headline is that this is a crowded space and, again, encroaches on Shopify's turf.
There's the potential opportunity regarding the changing wholesale supply chain (where American Eagle through their Quiet Logistics acquisition is making in-roads) but you run into the same conundrum as before – business with slim margins, build vs. buy to acquire the capability, and impatient capital.
If it looks like a duck, swims like a duck and quacks like a duck …
Flexport's real options are, in fact, mundane and lie in heavily contested spaces. Flexport could in some areas certainly eke out a slightly better margin with a more flexible tech stack, but (not saying this pejoratively) these are generally operations-driven business, most not being high margin.
Realistically, Flexport seems hemmed in. Without deepening the relationship with Shopify (certainly an option although Shopify is having its own identity strategic growth crisis), Flexport seems forced down the lane of Option 3 and doubling-down on investing in their international operation (in a nod to Amazon Marketplace, I would be very surprised if they then didn't use that international footprint plus technology to grow a sourcing or procurement marketplace).
Whatever they call themselves, they'll look more like they're competing with global freight forwarders.
It's important to keep this fact in mind when hearing the echoes of Amazon in the narratives presented by Mr. Clark ("customer-first, rocket ship of a company") and Mr. Petersen (in five years, would be "hands down the best supply chain company in the world"). Amazon defined its space, was shielded initially by a favorable regulatory/taxation structure, has had a strong revenue generator providing P&L air cover for its retail business (AWS) and could afford (for a number of well-deserved reasons) a long-term view on investment. Flexport has none of these things.
The Need for Urgency
Time will erode Flexport's competitive advantage, and their investors won't be as patient with their capital as Amazon and its shareholders.  In the discussion of how to get the global footprint – organic or through M&A – the answer seems intuitive. My colleague, Rob Petti, presented options well in his Eric Johnson stand-in piece here which I strongly suggest you read (and I won't repeat them here).
Of course, an M&A event will bring the standard challenges (e.g., cultural integrations) and there'd be questions about multiples of the combined entity but trying to grow the network to scale organically would take too long.
Flexport 2.0
All that said, what's the essential objective for Flexport leadership?
If the essential objective is to convert Flexport into a sustainable viable entity, then these steps make all the sense in the world: use the accumulated capitalization to acquire customers and the footprint needed through a n M&A event; focus on execution; do the very best to streamline/modernize the international supply chain.
The good news for Flexport is that Mr. Clark has a track record of building and executing a scaled operation – and that competency will be incredibly important not only for establishing the necessary organization, processes and technology but also the institutional aspects of organizational development and investment. So, he might be the right person for the right job at the right time.
I wish them well. As we all should.
Yes, it likely results in a step down in valuation multiples (insert schadenfreude references) but creates a stronger, healthier entity versus an increased likelihood of getting eclipsed by the freight forwarding heavyweights if Flexport were to continue down its current path.
Flexport 1.0 stirred up a number of players in the global market to improve their game and provide better service to their customers. A good thing for all involved. Flexport 2.0 should continue that.
Though let's not romanticize or put too much gloss on the opportunity. This is a challenging, operationally intense, tight margin business. And success is by no means guaranteed.
**
RATES / CAPACITY / ECONOMICS
North European box ports at capacity even before peak season starts (The Loadstar, June 1)
Growing congestion poses threat as peak season gets underway (Splash, June 3)
What America's next recession will look like (The Economist, June 1) 
Is 'Greedflation' Rewriting Economics, or Do Old Rules Still Apply? (New York Times, June 3)
U.S.-bound retail container imports remain strong, notes Port Tracker report (Supply Chain 247, June 8)
Liner average operating margins break all records (Splash, June 8)
US Dockworkers Fight for Jobs With Ports Pushing for Automation (Bloomberg, June 9)
Carriers expect no improvement in trans-Atlantic schedules this year (JOC, June 15)
Forwarder Allseas launches shipping line with bespoke customer service (The Loadstar, June 15)
POLA, POLB again push back consideration of container dwell fee to June 24 (SupplyChain247)
Large carriers see decline in Asia–US market share (JOC, June 21))
Belly cargo capacity makes slow return to global air freight (JOC, June 21)
'Spillover' cargo market shows signs of waning (JOC, June 17)
DISBURSEMENT
Fresh Del Monte calls on 'non-traditional ports' to circumvent congestion (Supply Chain Dive, June 10)
Houston's port chief targets 2025 completion for big ship dredging (JOC, June 10)
How supply-chain turmoil is remaking the car industry (The Economist, June 12)
EARLY MILE
US DOT gives funds to Georgia inland port rail upgrades (JOC, June 2)
UP, BNSF blame shippers for rail container buildup in LA (JOC, June 13)
Don't let ocean carriers off the hook for inland woes: analyst (JOC, June 15)
California ports build on rail capabilities, but there are fears of new congestion (The Loadstar, June 16)
INVESTMENTS IN LABOR + CAPACITY
Sysco moves drivers, warehouse workers to 4-day workweek in bid to improve retention (Supply Chain Dive, June 1)
Walmart's Sam's Club Solves a Huge Problem (Costco Hasn't) (The Street, June 9)
Leaked Amazon memo warns the company is running out of people to hire (Vox, June 17)
REGULATORY
Global Supply Chain Disruptions and Inflation During the COVID-19 Pandemic (Federal Reserve Bank of St. Louis, April 21)
Maritime official wants more control over ocean carrier contracting (FreightWaves, June 1)
FMC calls for probe into new charges by ocean carriers and terminals (The Loadstar, June 1)
FMC signaling measured approach ahead of OSRA (JOC, June 8)
Congress Chooses Sen. Amy Klobuchar's Shipping Cartel Bill over Stronger House Version (The Intercept, June 8)
Congress is voting soon to overhaul the shipping industry. Here's everything you need to know. (American Shipper, June 10)
President Biden disparages ocean carriers, calls price increases 'outrageous' (Splash, June 10)
FMC ready to hit ground running on OSRA: Maffei (JOC, June 17)
Carriers' antitrust immunity may be next target of US shipping reform (JOC, June 21)
Companies Brace for Impact of New Forced Labor Law (NY Times, June 22)
ROBOTICS
The robots are marching in (Modern Shipper, June 2)
Walmart plots 4 'next generation' fulfillment centers (Supply Chain Dive, June 6)
Automate 2022 Recap: Integration as the Future (June 9, Supply Chain 247)
Amazon debuts a fully autonomous warehouse robot (TechCrunch, June 22)
OSARO and Zenni deploy robotic bagging system (Supply Chain 247, June 23)
RETAIL / WHOLESALE LOGISTICS
American Eagle's logistics arm adds Saks Off Fifth, Fanatics as customers (Supply Chain Dive, June 2)
Why Americans are poorly served by their grocery stores (The Economist, June 2)
Fast fashion is ruining the planet – here's how to make it sustainable (New Scientist, June 1)
Sustainable fashion: How to cut the environmental cost of your clothes (New Scientist, June 1)
It's time to rethink what last-mile delivery really means, says Gartner VP (Modern Shipper, June 10)
Why everyone is freaking out about Target's inventory (FreightWaves, June 9)
It Works for Sneakers. Now It's for Baby PJs and Skateboards, Too. (New York Times, June 11)
Zara now charges for some returns. Will other retailers follow? (Supply Chain Dive, June 17)
Retail slump? E-commerce sales still 'stunning,' clothing 'crazy hot' (FreightWaves, June 17)
TECHNOLOGY
How 'Trustless' Is Bitcoin, Really? (New York Times, June 6)
Ethereum Mining Is Going Away, and Miners Are Not Happy (Bloomberg BusinessWeek, June 16)
FedEx invests in FourKites to build intelligent supply chain platform (FreightWaves, June 21)
Supply Chain Financing Solutions For Ecommerce Rising In Popularity (Forbes, June 22)