NewsLens September 2022 – On Supply Chain Unicorns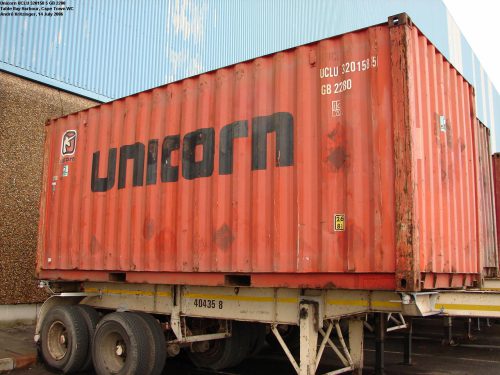 By Kai Timmermann
Welcome to the second part of our two-part use of networked competencies to look at logistics players. Last month we looked at the large-scale service providers. This month we're looking at logistics unicorns.
Feedback on format is always appreciated.
Methodology
To ground the conversation, we'll use CB Insights' data (as of July 27, 2022) to identify unicorns (defined as private companies whose valuation is US$1b or more) and filtered to companies within the supply chain sector plus Flexe which, per FreightWaves, achieved unicorn status late July 2022.
Thinking about this from the network competencies, I then applied category qualifiers to the list to clarify their strategic value proposition and analyzed to what extent their strategic value proposition was grounded in related assets – local mile capabilities, established systems integrations, user network, or assets – and described the core technology.
The result of that analysis is here. Below are some callouts:
The total unicorn valuation of supply chain, logistics and delivery companies is about US$213b.

Commerce and local mile categories, including entities such as Instacart and GoPuff, drive the vast bulk – about 70%.

Major other categories in the balance include the below (comprising about 22% of the total):

Shipment management / digital freight forwarders, including Flexport and Forto – US$15b

Planning and procurement software, including RELEX and Interos – US$8.7b

Transportation Coordination Platforms, including Convoy and Flock Freight – US$8.5b

eComm fulfillment, including Stord, Route and ShipBob – US$6.6b

Robotics / drones, including Zipline and Skydio – US$4.8b

Shipment Visibility, including Project44 and FourKites – US$3.6b

Note that some of the categories (and think of categories akin to "markets served") include distinct sets of competencies, meaning they serve a similar market but how they provide that service (what assets they leverage) is distinct.

For example, eComm fulfillment might include entities such as Stord and Flexe – who are predominantly about distributed fulfillment centers shipping out product, as well as Shippo and Route – who are predominantly about visibility to local mile deliveries.
The above grounds the conversation about who the log(tech) unicorns are and their spaces. But we need to get more targeted if we're going to say something useful.
We covered the prognosis of digital freight forwarding heavily in June's NewsLens regarding Flexport. Today will focus on two others: (a) Shipment Visibility including Project44 and FourKites, and (b) eComm fulfillment providers including Stord and Shippo.
We will then, too, come back to networked competencies more broadly.
Shipment Visibility
Although there's obvious value in what's being provided by Project44 and FourKites, I'm bearish on their mid- and long-term prospects. Why?
Capturing the event is great but linking the event to context remains the challenge. Shipment Visibility providers certainly create value by automatically retrieving data from service providers and terminal operators – thereby preventing employees having to refresh websites or speed dial carriers. But that is only half of the information need. The other half – and more difficult – is adding the customer-specific context to the data. As an example, it's one thing to know that a container is expected to arrive on OCT 15 it's another to know the impacted products' expected in-store dates or cancel dates.
Carriers' and terminals' self-interest will lead to commoditization of event information. Competitive pressures and push for direct relationships with BCOs will drive carriers and terminals to improve information quality and transparency and erode the role of the middleperson.
Project44 and FourKites are an FMC policy announcement away from being out of business. (Disclosure – I'm surprised such an announcement hasn't happened yet given the FMC Data Initiative.) If the FMC took a step to define event publication standards and requirements, it'd have the same effect on Project44 and FourKites as Tim Cook uttering the word "iCar" on Tesla's stock price.
Thinking about their opportunities through a networked competencies lens is mechanical:
Could they create a more long-term defensible position in their current space by viably adding capabilities? A move upstream – leveraging their carrier integrations / relationships – into quoting / booking could be interesting (although they would obviously run into some other competition). There are some interesting opportunities in combining with an Infor Nexus or a major FMS (as a Shipment Visibility provider could add real value), but that acquisition would come from the other player – not FourKites or Project 44 – and likely not at their current valuation.
Could they go after new markets with their current set of capabilities? There are potential benefits to the brand in the short-term derived from publishing performance indices (given the number of transactions under view). However, I assume the value of those indices will decline as overall operational performance normalizes.
Is there a basis to pivot – leveraging aspects of their competencies or market position – to an opportunity (similar to American Eagle / Quiet Platforms)? Their functionality is narrow at the moment, so no.
Headline? There are some interesting opportunities to bundle the Shipment Visibility players into other areas, but the opportunity is more likely to come from well-capitalized entities and more likely when valuation expectations have dropped a bit.
eComm Fulfillment
I'm more bearish on the eComm fulfillment players' outlook but I do see more short-term acquisition fits for companies like Stord and Shippo:
eComm did something of a head fake during Covid. eComm's percent of US retail sales jumped from about 12% at the start of 2020 to over 16% during Q2 2020 and companies reasonably projected that the steep upward climb would continue. In fact, it retreated and now stands at about 14%, implying an underlying challenge facing all those providing capacity (although for the moment that capacity has been absorbed by the well-publicized general inventory swell).
Connectivity drives consolidation ("winner take all"). These unicorns are playing in the land of well-capitalized giants and it's a challenge to see how they compete sustainably head-to-head with the likes of Amazon and Maersk (through Visible SCM). 
Pivoting into wholesale presents its own challenges. Wholesale distribution processes (i.e., shipping on behalf of BCOs to retailers) are more customer-specific than small parcel in dealing with, say, routing and compliance requirements.
The conversation here on acquisition fits is more interesting.
Most interesting to me would be something like Quiet Platform (or, because I should be fair, Gap's newly announced GPS Platform Services) partnering up for an omni-channel solution and bundling together naturally complementary competencies and a means to scale up their customer base. The other approach may be a legacy asset based LSP such as Hub Group looking to extend their capabilities into online fulfillment.
Why networked competencies as a mindset
We developed the networked competencies approach back in the early 00s to frame the structural industry changes caused by interconnectivity in financial services, retail and telecommunications (e.g., channel disruption and dispersion, consolidation / winner-take-all, specialization). It's taken longer for it to impact logistics, but change is definitely happening.
The key appeal of networked competencies – and particularly helpful during the market's down mood – is both its granularity and structural approach, helping to ground valuation conversations that have recently been 90% narrative / 10% numbers driven:
'granularity' means focusing beyond the headlines and more closely at a company's dynamics – and what they should lean towards

'structural' means understanding there are predispositions or mechanics at play – the business unit driving 75% of the profits would be expected to drive the investment focus; a large scale, process-driven entity would be expected to slow the innovation rate and nimbleness of a logtech start-up (note these aren't judgments – just reasonable expectations).
We'll continue to refer to networked competencies in the context of corporate strategy and tactics, but hope this NewsLens – and last month's edition – helped to talk about it practically and without getting sucked down into theory.