Seamless integrations,
No developers required.
We simplify the process so you can integrate with everyone.
From high volume data warehouses to the long tail of customer integrations
Prompt Connect can scale with you and your customers' unique needs
An integrated supply chain ecosystem is of great importance to seamlessly exchange data with minimal time lag.
Our software application is flexible and can connect to your existing software stack to facilitate the smooth data transfer of rates, shipment information, sailing schedules, payment invoices, and more.
Logical integration dashboards
Monitor integration performance and data transmission through an easy to understand portal.
Streamline Your Logistics
ADD INTEGRATIONS TO YOUR BUSINESS OPERATIONS
Prompt works with the software you already use to help you better connect your software platforms and databases to automate the flow of data. Integrations via Prompt's API interface allow companies with significant or nonexistent IT resources to share information. We connect to your:
Enterprise Resource Planning (ERP) system
Warehouse Management system
Order Management system
E-Commerce platform
Customer databases
Government entities
Carrier platforms
And anything else you need!
Pre-integrated and custom solutions
MORE THAN 100 INTEGRATIONS TO DATE
Whether you use popular software solutions and EDI message types or proprietary applications, Prompt's technology can help you quickly and easily connect to them. We'll be by your side the entire time if you have any questions during the process.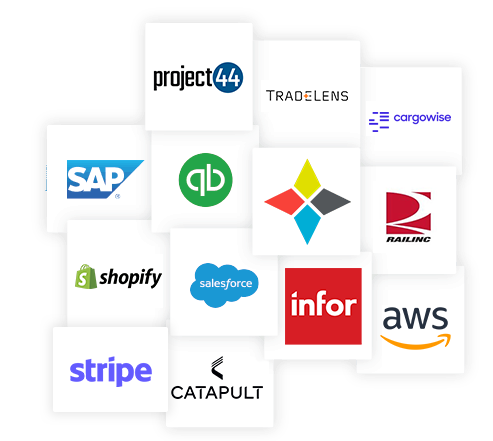 Enterprise companies and global brands build better businesses with Prompt